Advanced Warfare Collector's Editions Revealed
July 29, 2014

Activision has announced, along with the multiplayer world reveal, three new AW collector's editions that come with a variety of different bonuses that any Call of Duty fan would enjoy.
Atlas Limited Edition ($79.99)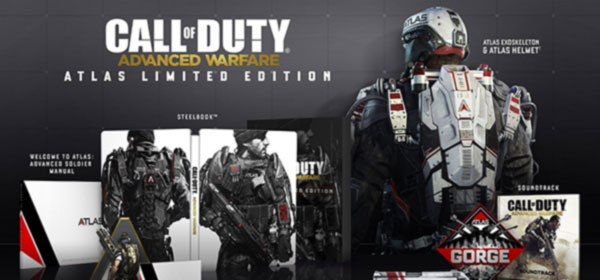 Atlas Gorge MP Map: COD4 Pipeline multiplayer map remake.
Bal-27 Assault Rifle and Atlas-45 Pistol: Both fitted with an Atlas Corporation theme.
Advanced Arsenal: Custom bullet brass themed exoskeleton and EM1 Quantum.
Atlas Exoskeleton: Custom red & black Atlas exoskeleton.
Atlas Helmet: Custom state-of-the-art Atlas helmet.
Atlas Player Card: Custom Atlas calling card and emblem.
Five Bonus Supply Drops: Can be used to unlock in-game content.
SP Exoskeleton Upgrade Token: Provides an extra upgrade for your singleplayer campaign exoskeleton.
Advanced Soldier Manual: Features original concept artwork and tactical information.
Collectible SteelBook: Features premium in-game artwork.
Soundtrack: Copy of Advanced Warfare's score.
Atlas Pro Edition ($119.99)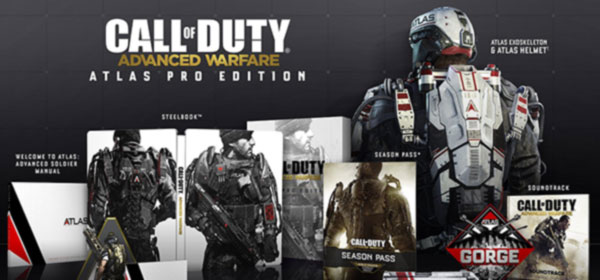 Contains everything included in the Atlas Limited Edition (above), but also comes with a Season Pass that includes 4 DLC map packs that are going to be released in 2015.
Atlas Digital Pro Edition ($99.99)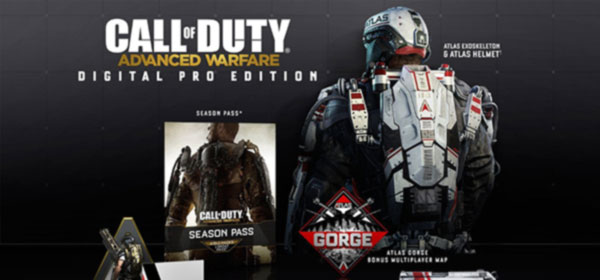 Same as the Atlas Pro Edition but it contains digital content only, meaning no Advanced Soldier Manual, Collectible SteelBook or Soundtrack.